Strict Standards
: Non-static method JLoader::import() should not be called statically in
/home/wor21492/public_html/libraries/loader.php
on line
186
Strict Standards
: Non-static method JLoader::register() should not be called statically in
/home/wor21492/public_html/libraries/loader.php
on line
71
Strict Standards
: Non-static method JLoader::load() should not be called statically in
/home/wor21492/public_html/libraries/loader.php
on line
161
Strict Standards
: Non-static method JLoader::register() should not be called statically in
/home/wor21492/public_html/libraries/loader.php
on line
138
Strict Standards
: Declaration of ContentController::display() should be compatible with JController::display($cachable = false) in
/home/wor21492/public_html/components/com_content/controller.php
on line
28
Strict Standards
: Non-static method JLoader::import() should not be called statically in
/home/wor21492/public_html/libraries/loader.php
on line
186
Strict Standards
: Non-static method JLoader::import() should not be called statically in
/home/wor21492/public_html/libraries/loader.php
on line
186
Strict Standards
: Non-static method JLoader::import() should not be called statically in
/home/wor21492/public_html/libraries/loader.php
on line
186
Strict Standards
: Non-static method JLoader::register() should not be called statically in
/home/wor21492/public_html/libraries/loader.php
on line
71
Strict Standards
: Non-static method JLoader::load() should not be called statically in
/home/wor21492/public_html/libraries/loader.php
on line
161
Strict Standards
: Non-static method JLoader::register() should not be called statically in
/home/wor21492/public_html/libraries/loader.php
on line
138
Strict Standards
: Non-static method JLoader::import() should not be called statically in
/home/wor21492/public_html/libraries/loader.php
on line
186
Strict Standards
: call_user_func_array() expects parameter 1 to be a valid callback, non-static method JHTMLBehavior::caption() should not be called statically in
/home/wor21492/public_html/libraries/joomla/html/html.php
on line
91
Strict Standards
: Non-static method JHTML::script() should not be called statically in
/home/wor21492/public_html/libraries/joomla/html/html/behavior.php
on line
63
Strict Standards
: Non-static method JHTML::_() should not be called statically in
/home/wor21492/public_html/libraries/joomla/html/html.php
on line
172
Strict Standards
: call_user_func_array() expects parameter 1 to be a valid callback, non-static method JHTMLBehavior::mootools() should not be called statically in
/home/wor21492/public_html/libraries/joomla/html/html.php
on line
91
Strict Standards
: Non-static method JURI::root() should not be called statically in
/home/wor21492/public_html/libraries/joomla/html/html.php
on line
176
Strict Standards
: Non-static method JFactory::getDocument() should not be called statically in
/home/wor21492/public_html/libraries/joomla/html/html.php
on line
179
Strict Standards
: Non-static method JLoader::import() should not be called statically in
/home/wor21492/public_html/libraries/loader.php
on line
186
Strict Standards
: Non-static method JLoader::load() should not be called statically in
/home/wor21492/public_html/libraries/loader.php
on line
161
Strict Standards
: Non-static method JLoader::register() should not be called statically in
/home/wor21492/public_html/libraries/loader.php
on line
138
Strict Standards
: Non-static method JLoader::import() should not be called statically in
/home/wor21492/public_html/libraries/loader.php
on line
186
Strict Standards
: Non-static method JLoader::import() should not be called statically in
/home/wor21492/public_html/libraries/loader.php
on line
186
Strict Standards
: Non-static method JLoader::register() should not be called statically in
/home/wor21492/public_html/libraries/loader.php
on line
71
Strict Standards
: Non-static method JLoader::load() should not be called statically in
/home/wor21492/public_html/libraries/loader.php
on line
161
Strict Standards
: Non-static method JLoader::register() should not be called statically in
/home/wor21492/public_html/libraries/loader.php
on line
138
Strict Standards
: Non-static method JLoader::import() should not be called statically in
/home/wor21492/public_html/libraries/loader.php
on line
186
Strict Standards
: Non-static method JLoader::load() should not be called statically in
/home/wor21492/public_html/libraries/loader.php
on line
161
Strict Standards
: Non-static method JLoader::register() should not be called statically in
/home/wor21492/public_html/libraries/loader.php
on line
138
Strict Standards
: Non-static method JLoader::import() should not be called statically in
/home/wor21492/public_html/libraries/loader.php
on line
186
Strict Standards
: Non-static method JLoader::import() should not be called statically in
/home/wor21492/public_html/libraries/loader.php
on line
186
Strict Standards
: Non-static method JLoader::import() should not be called statically in
/home/wor21492/public_html/libraries/loader.php
on line
186
Strict Standards
: Non-static method JLoader::import() should not be called statically in
/home/wor21492/public_html/libraries/loader.php
on line
186
Strict Standards
: Non-static method JLoader::import() should not be called statically in
/home/wor21492/public_html/libraries/loader.php
on line
186
Strict Standards
: Non-static method JLoader::load() should not be called statically in
/home/wor21492/public_html/libraries/loader.php
on line
161
Strict Standards
: Non-static method JLoader::register() should not be called statically in
/home/wor21492/public_html/libraries/loader.php
on line
138
Strict Standards
: Declaration of JCacheView::get() should be compatible with JCache::get($id, $group = NULL) in
/home/wor21492/public_html/libraries/joomla/cache/handler/view.php
on line
150
Strict Standards
: Non-static method JLoader::import() should not be called statically in
/home/wor21492/public_html/libraries/loader.php
on line
186
Strict Standards
: Non-static method JLoader::import() should not be called statically in
/home/wor21492/public_html/libraries/loader.php
on line
186
Strict Standards
: Non-static method JLoader::import() should not be called statically in
/home/wor21492/public_html/libraries/loader.php
on line
186
Strict Standards
: Non-static method JLoader::register() should not be called statically in
/home/wor21492/public_html/libraries/loader.php
on line
71
Strict Standards
: Non-static method JLoader::load() should not be called statically in
/home/wor21492/public_html/libraries/loader.php
on line
161
Strict Standards
: Non-static method JLoader::register() should not be called statically in
/home/wor21492/public_html/libraries/loader.php
on line
138
Strict Standards
: Non-static method JLoader::import() should not be called statically in
/home/wor21492/public_html/libraries/loader.php
on line
186
Strict Standards
: Non-static method JLoader::import() should not be called statically in
/home/wor21492/public_html/libraries/loader.php
on line
186
Strict Standards
: Non-static method JLoader::import() should not be called statically in
/home/wor21492/public_html/libraries/loader.php
on line
186
Strict Standards
: Non-static method JLoader::import() should not be called statically in
/home/wor21492/public_html/libraries/loader.php
on line
186
Strict Standards
: Non-static method JLoader::register() should not be called statically in
/home/wor21492/public_html/libraries/loader.php
on line
71
Strict Standards
: Non-static method JLoader::load() should not be called statically in
/home/wor21492/public_html/libraries/loader.php
on line
161
Strict Standards
: Non-static method JLoader::register() should not be called statically in
/home/wor21492/public_html/libraries/loader.php
on line
138
Strict Standards
: Non-static method JLoader::import() should not be called statically in
/home/wor21492/public_html/libraries/loader.php
on line
186
Strict Standards
: Non-static method JLoader::register() should not be called statically in
/home/wor21492/public_html/libraries/loader.php
on line
71
Strict Standards
: Non-static method JLoader::load() should not be called statically in
/home/wor21492/public_html/libraries/loader.php
on line
161
Strict Standards
: Non-static method JLoader::register() should not be called statically in
/home/wor21492/public_html/libraries/loader.php
on line
138
Strict Standards
: Non-static method JLoader::import() should not be called statically in
/home/wor21492/public_html/libraries/loader.php
on line
186
Strict Standards
: Non-static method JLoader::import() should not be called statically in
/home/wor21492/public_html/libraries/loader.php
on line
186
Strict Standards
: Non-static method JLoader::load() should not be called statically in
/home/wor21492/public_html/libraries/loader.php
on line
161
Strict Standards
: Non-static method JLoader::register() should not be called statically in
/home/wor21492/public_html/libraries/loader.php
on line
138
Strict Standards
: Non-static method JLoader::import() should not be called statically in
/home/wor21492/public_html/libraries/loader.php
on line
186
Strict Standards
: Non-static method JLoader::load() should not be called statically in
/home/wor21492/public_html/libraries/loader.php
on line
161
Strict Standards
: Non-static method JLoader::register() should not be called statically in
/home/wor21492/public_html/libraries/loader.php
on line
138
Strict Standards
: Non-static method JLoader::import() should not be called statically in
/home/wor21492/public_html/libraries/loader.php
on line
186
Strict Standards
: Non-static method JLoader::import() should not be called statically in
/home/wor21492/public_html/libraries/loader.php
on line
186
Strict Standards
: Non-static method JLoader::import() should not be called statically in
/home/wor21492/public_html/libraries/loader.php
on line
186
Strict Standards
: Non-static method JLoader::import() should not be called statically in
/home/wor21492/public_html/libraries/loader.php
on line
186
Strict Standards
: Non-static method JLoader::import() should not be called statically in
/home/wor21492/public_html/libraries/loader.php
on line
186
Strict Standards
: Non-static method JSite::getMenu() should not be called statically in
/home/wor21492/public_html/components/com_content/router.php
on line
19
Strict Standards
: Non-static method JApplication::getMenu() should not be called statically in
/home/wor21492/public_html/includes/application.php
on line
345
Strict Standards
: Non-static method JLoader::import() should not be called statically in
/home/wor21492/public_html/libraries/loader.php
on line
186
Strict Standards
: Non-static method JMenu::getInstance() should not be called statically in
/home/wor21492/public_html/libraries/joomla/application/application.php
on line
720
Strict Standards
: Non-static method JError::isError() should not be called statically in
/home/wor21492/public_html/libraries/joomla/application/application.php
on line
721
Strict Standards
: Non-static method JLoader::import() should not be called statically in
/home/wor21492/public_html/libraries/loader.php
on line
186
Strict Standards
: Non-static method JLoader::load() should not be called statically in
/home/wor21492/public_html/libraries/loader.php
on line
161
Strict Standards
: Non-static method JLoader::register() should not be called statically in
/home/wor21492/public_html/libraries/loader.php
on line
138
Strict Standards
: Non-static method JLoader::import() should not be called statically in
/home/wor21492/public_html/libraries/loader.php
on line
186
Strict Standards
: Non-static method JLoader::load() should not be called statically in
/home/wor21492/public_html/libraries/loader.php
on line
161
Strict Standards
: Non-static method JLoader::register() should not be called statically in
/home/wor21492/public_html/libraries/loader.php
on line
138
Strict Standards
: Non-static method JLoader::import() should not be called statically in
/home/wor21492/public_html/libraries/loader.php
on line
186
Strict Standards
: Non-static method JLoader::load() should not be called statically in
/home/wor21492/public_html/libraries/loader.php
on line
161
Strict Standards
: Non-static method JLoader::register() should not be called statically in
/home/wor21492/public_html/libraries/loader.php
on line
138
Strict Standards
: Non-static method JLoader::import() should not be called statically in
/home/wor21492/public_html/libraries/loader.php
on line
186
Strict Standards
: Non-static method JLoader::load() should not be called statically in
/home/wor21492/public_html/libraries/loader.php
on line
161
Strict Standards
: Non-static method JLoader::register() should not be called statically in
/home/wor21492/public_html/libraries/loader.php
on line
138
Strict Standards
: Non-static method JLoader::import() should not be called statically in
/home/wor21492/public_html/libraries/loader.php
on line
186
Strict Standards
: Non-static method JLoader::load() should not be called statically in
/home/wor21492/public_html/libraries/loader.php
on line
161
Strict Standards
: Non-static method JLoader::register() should not be called statically in
/home/wor21492/public_html/libraries/loader.php
on line
138
Strict Standards
: Non-static method JLoader::import() should not be called statically in
/home/wor21492/public_html/libraries/loader.php
on line
186
Strict Standards
: Non-static method JLoader::load() should not be called statically in
/home/wor21492/public_html/libraries/loader.php
on line
161
Strict Standards
: Non-static method JLoader::register() should not be called statically in
/home/wor21492/public_html/libraries/loader.php
on line
138
Strict Standards
: Non-static method JPluginHelper::getPlugin() should not be called statically in
/home/wor21492/public_html/plugins/content/easiertube.php
on line
19
Strict Standards
: Non-static method JPluginHelper::_load() should not be called statically in
/home/wor21492/public_html/libraries/joomla/plugin/helper.php
on line
41
Strict Standards
: Non-static method JRequest::getVar() should not be called statically in
/home/wor21492/public_html/plugins/content/easiertube.php
on line
21
Strict Standards
: Non-static method JRequest::_cleanVar() should not be called statically in
/home/wor21492/public_html/libraries/joomla/environment/request.php
on line
134
Strict Standards
: Non-static method JFilterInput::getInstance() should not be called statically in
/home/wor21492/public_html/libraries/joomla/environment/request.php
on line
577
Strict Standards
: Non-static method JPluginHelper::getPlugin() should not be called statically in
/home/wor21492/public_html/plugins/content/easiertube.php
on line
74
Strict Standards
: Non-static method JPluginHelper::_load() should not be called statically in
/home/wor21492/public_html/libraries/joomla/plugin/helper.php
on line
41
Strict Standards
: Non-static method JRequest::getVar() should not be called statically in
/home/wor21492/public_html/plugins/content/easiertube.php
on line
76
Strict Standards
: Non-static method JRequest::_cleanVar() should not be called statically in
/home/wor21492/public_html/libraries/joomla/environment/request.php
on line
134
Strict Standards
: Non-static method JFilterInput::getInstance() should not be called statically in
/home/wor21492/public_html/libraries/joomla/environment/request.php
on line
577
Strict Standards
: Non-static method JPluginHelper::getPlugin() should not be called statically in
/home/wor21492/public_html/plugins/content/easiertube.php
on line
113
Strict Standards
: Non-static method JPluginHelper::_load() should not be called statically in
/home/wor21492/public_html/libraries/joomla/plugin/helper.php
on line
41
Strict Standards
: Non-static method JRequest::getVar() should not be called statically in
/home/wor21492/public_html/plugins/content/easiertube.php
on line
115
Strict Standards
: Non-static method JRequest::_cleanVar() should not be called statically in
/home/wor21492/public_html/libraries/joomla/environment/request.php
on line
134
Strict Standards
: Non-static method JFilterInput::getInstance() should not be called statically in
/home/wor21492/public_html/libraries/joomla/environment/request.php
on line
577
Strict Standards
: Non-static method JPluginHelper::getPlugin() should not be called statically in
/home/wor21492/public_html/plugins/content/easiertube.php
on line
146
Strict Standards
: Non-static method JPluginHelper::_load() should not be called statically in
/home/wor21492/public_html/libraries/joomla/plugin/helper.php
on line
41
Strict Standards
: Non-static method JRequest::getVar() should not be called statically in
/home/wor21492/public_html/plugins/content/easiertube.php
on line
148
Strict Standards
: Non-static method JRequest::_cleanVar() should not be called statically in
/home/wor21492/public_html/libraries/joomla/environment/request.php
on line
134
Strict Standards
: Non-static method JFilterInput::getInstance() should not be called statically in
/home/wor21492/public_html/libraries/joomla/environment/request.php
on line
577
Strict Standards
: Non-static method JPluginHelper::getPlugin() should not be called statically in
/home/wor21492/public_html/plugins/content/easiertube.php
on line
176
Strict Standards
: Non-static method JPluginHelper::_load() should not be called statically in
/home/wor21492/public_html/libraries/joomla/plugin/helper.php
on line
41
Strict Standards
: Non-static method JRequest::getVar() should not be called statically in
/home/wor21492/public_html/plugins/content/easiertube.php
on line
178
Strict Standards
: Non-static method JRequest::_cleanVar() should not be called statically in
/home/wor21492/public_html/libraries/joomla/environment/request.php
on line
134
Strict Standards
: Non-static method JFilterInput::getInstance() should not be called statically in
/home/wor21492/public_html/libraries/joomla/environment/request.php
on line
577
Strict Standards
: Non-static method JPluginHelper::getPlugin() should not be called statically in
/home/wor21492/public_html/plugins/content/easiertube.php
on line
206
Strict Standards
: Non-static method JPluginHelper::_load() should not be called statically in
/home/wor21492/public_html/libraries/joomla/plugin/helper.php
on line
41
Strict Standards
: Non-static method JRequest::getVar() should not be called statically in
/home/wor21492/public_html/plugins/content/easiertube.php
on line
208
Strict Standards
: Non-static method JRequest::_cleanVar() should not be called statically in
/home/wor21492/public_html/libraries/joomla/environment/request.php
on line
134
Strict Standards
: Non-static method JFilterInput::getInstance() should not be called statically in
/home/wor21492/public_html/libraries/joomla/environment/request.php
on line
577
Strict Standards
: Non-static method JPluginHelper::getPlugin() should not be called statically in
/home/wor21492/public_html/plugins/content/easiertube.php
on line
234
Strict Standards
: Non-static method JPluginHelper::_load() should not be called statically in
/home/wor21492/public_html/libraries/joomla/plugin/helper.php
on line
41
Strict Standards
: Non-static method JRequest::getVar() should not be called statically in
/home/wor21492/public_html/plugins/content/easiertube.php
on line
236
Strict Standards
: Non-static method JRequest::_cleanVar() should not be called statically in
/home/wor21492/public_html/libraries/joomla/environment/request.php
on line
134
Strict Standards
: Non-static method JFilterInput::getInstance() should not be called statically in
/home/wor21492/public_html/libraries/joomla/environment/request.php
on line
577
Strict Standards
: Non-static method JPluginHelper::getPlugin() should not be called statically in
/home/wor21492/public_html/plugins/content/easiertube.php
on line
273
Strict Standards
: Non-static method JPluginHelper::_load() should not be called statically in
/home/wor21492/public_html/libraries/joomla/plugin/helper.php
on line
41
Strict Standards
: Non-static method JRequest::getVar() should not be called statically in
/home/wor21492/public_html/plugins/content/easiertube.php
on line
275
Strict Standards
: Non-static method JRequest::_cleanVar() should not be called statically in
/home/wor21492/public_html/libraries/joomla/environment/request.php
on line
134
Strict Standards
: Non-static method JFilterInput::getInstance() should not be called statically in
/home/wor21492/public_html/libraries/joomla/environment/request.php
on line
577
Strict Standards
: Non-static method JPluginHelper::getPlugin() should not be called statically in
/home/wor21492/public_html/plugins/content/easiertube.php
on line
311
Strict Standards
: Non-static method JPluginHelper::_load() should not be called statically in
/home/wor21492/public_html/libraries/joomla/plugin/helper.php
on line
41
Strict Standards
: Non-static method JRequest::getVar() should not be called statically in
/home/wor21492/public_html/plugins/content/easiertube.php
on line
313
Strict Standards
: Non-static method JRequest::_cleanVar() should not be called statically in
/home/wor21492/public_html/libraries/joomla/environment/request.php
on line
134
Strict Standards
: Non-static method JFilterInput::getInstance() should not be called statically in
/home/wor21492/public_html/libraries/joomla/environment/request.php
on line
577
Strict Standards
: Non-static method JLoader::load() should not be called statically in
/home/wor21492/public_html/libraries/loader.php
on line
161
Strict Standards
: Non-static method JLoader::register() should not be called statically in
/home/wor21492/public_html/libraries/loader.php
on line
138
Strict Standards
: Non-static method JString::strpos() should not be called statically in
/home/wor21492/public_html/plugins/content/emailcloak.php
on line
67
Strict Standards
: Non-static method JString::strpos() should not be called statically in
/home/wor21492/public_html/plugins/content/emailcloak.php
on line
73
Strict Standards
: Non-static method JFactory::getDBO() should not be called statically in
/home/wor21492/public_html/plugins/content/loadmodule.php
on line
24
Strict Standards
: Non-static method JString::strpos() should not be called statically in
/home/wor21492/public_html/plugins/content/loadmodule.php
on line
26
Strict Standards
: Non-static method JPluginHelper::getPlugin() should not be called statically in
/home/wor21492/public_html/plugins/content/pagebreak.php
on line
39
Strict Standards
: Non-static method JPluginHelper::_load() should not be called statically in
/home/wor21492/public_html/libraries/joomla/plugin/helper.php
on line
41
Strict Standards
: Non-static method JRequest::getBool() should not be called statically in
/home/wor21492/public_html/plugins/content/pagebreak.php
on line
42
Strict Standards
: Non-static method JRequest::getVar() should not be called statically in
/home/wor21492/public_html/libraries/joomla/environment/request.php
on line
217
Strict Standards
: Non-static method JRequest::_cleanVar() should not be called statically in
/home/wor21492/public_html/libraries/joomla/environment/request.php
on line
151
Strict Standards
: Non-static method JFilterInput::getInstance() should not be called statically in
/home/wor21492/public_html/libraries/joomla/environment/request.php
on line
577
Strict Standards
: Non-static method JRequest::getBool() should not be called statically in
/home/wor21492/public_html/plugins/content/pagebreak.php
on line
43
Strict Standards
: Non-static method JRequest::getVar() should not be called statically in
/home/wor21492/public_html/libraries/joomla/environment/request.php
on line
217
Strict Standards
: Non-static method JRequest::_cleanVar() should not be called statically in
/home/wor21492/public_html/libraries/joomla/environment/request.php
on line
151
Strict Standards
: Non-static method JFilterInput::getInstance() should not be called statically in
/home/wor21492/public_html/libraries/joomla/environment/request.php
on line
577
Strict Standards
: Non-static method JPlugin::loadLanguage() should not be called statically in
/home/wor21492/public_html/plugins/content/pagebreak.php
on line
45
Strict Standards
: Non-static method JFactory::getLanguage() should not be called statically in
/home/wor21492/public_html/libraries/joomla/plugin/plugin.php
on line
113
Strict Standards
: Non-static method JLoader::import() should not be called statically in
/home/wor21492/public_html/libraries/loader.php
on line
186
Strict Standards
: Non-static method JRequest::getCmd() should not be called statically in
/home/wor21492/public_html/plugins/content/pagenavigation.php
on line
21
Strict Standards
: Non-static method JRequest::getVar() should not be called statically in
/home/wor21492/public_html/libraries/joomla/environment/request.php
on line
255
Strict Standards
: Non-static method JRequest::_cleanVar() should not be called statically in
/home/wor21492/public_html/libraries/joomla/environment/request.php
on line
134
Strict Standards
: Non-static method JFilterInput::getInstance() should not be called statically in
/home/wor21492/public_html/libraries/joomla/environment/request.php
on line
577
Strict Standards
: Non-static method JPluginHelper::getPlugin() should not be called statically in
/home/wor21492/public_html/plugins/content/pagenavigation.php
on line
24
Strict Standards
: Non-static method JPluginHelper::_load() should not be called statically in
/home/wor21492/public_html/libraries/joomla/plugin/helper.php
on line
41
Strict Standards
: Non-static method JFactory::getURI() should not be called statically in
/home/wor21492/public_html/plugins/content/vote.php
on line
21
Strict Standards
: Non-static method JLoader::import() should not be called statically in
/home/wor21492/public_html/libraries/loader.php
on line
186
Strict Standards
: Non-static method JURI::getInstance() should not be called statically in
/home/wor21492/public_html/libraries/joomla/factory.php
on line
403
Strict Standards
: Non-static method JLoader::import() should not be called statically in
/home/wor21492/public_html/libraries/loader.php
on line
186
Written by Paul Lanthois |
Strict Standards: call_user_func_array() expects parameter 1 to be a valid callback, non-static method JHTML::date() should not be called statically in /home/wor21492/public_html/libraries/joomla/html/html.php on line 91

Strict Standards: Non-static method JFactory::getConfig() should not be called statically in /home/wor21492/public_html/libraries/joomla/html/html.php on line 222

Strict Standards: Non-static method JFactory::getDate() should not be called statically in /home/wor21492/public_html/libraries/joomla/html/html.php on line 225

Strict Standards: Non-static method JLoader::import() should not be called statically in /home/wor21492/public_html/libraries/loader.php on line 186

Strict Standards: Non-static method JFactory::getLanguage() should not be called statically in /home/wor21492/public_html/libraries/joomla/factory.php on line 427
26 May 2011
Stress is the bane of our modern existence. Not only has stress been shown to reduce work productivity by 13% but it also  a major cause in the development of numerous serious health problems that can drastically impair the quality of our work and personal lives. The reality is that we are finding ourselves in these stressful circumstances with increasing frequency. So what can we do to better handle stress?...
Developing your emotional management skills is an essential ingredient in handling stress. Research has  now uncovered certain foods that actually help your body deal with stress...
In a study at Penn State University published in Oct 2010 in the journal of the American College of Nutrition researchers studied 22 adults with elevated levels of LDL cholesterol (the so-called "bad" cholesterol).
The subjects were taken through three separate six-week periods during which they were on separate diets .(There was a one-week break between diets)
The diets were matched for calories and were specifically designed for each individual so no weight loss or gain occurred :
1) The typical American diet. (God forbid!)
2) The typical American diet plus 9 walnuts and one tablespoon of walnut oil daily.
3) The typical American diet plus 9 walnuts, one tablespoon of walnut oil, plus 1.5 tablespoons of flaxseed oil daily.
At the end of each six-week diet the participants had: their resting blood pressure measured, a vascular ultrasound examination to measure artery dilation and had  a blood test to measure inflammatory biomarkers.
In addition, they also underwent two stress tests. After each diet, the participants underwent two stress tests. In the first test, they received a topic; and they were given two minutes to prepare a three-minute speech, which they presented while being videotaped. The second stressor was a standard physical test of stress consisting of submerging one foot in ice-cold water. Throughout these tests, the researchers took blood pressure readings from the participants.
The researchers found that the two diets containing the walnuts and walnut oil significantly reduced resting blood pressure and also lowered the blood pressure responses to stress. Adding flaxseed oil to the walnuts and walnut oil did not further lower the blood pressure but it did show lowering of inflammatory chemicals and improved artery dilation showing that flaxseed oils has provides the added benefits of reducing inflammation and improving heart health.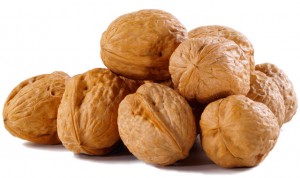 Walnuts are a rich source of fiber, antioxidants, and unsaturated fatty acids, particularly alpha linolenic acid, an omega-3 fatty acid, and these compounds could be responsible for the beneficial effects on blood pressure. Flaxseed oil is a more concentrated source of omega-3 fatty acids than walnut oil, but this study did not test whether flaxseed oil alone could blunt cardiovascular responses to stress. (This was probably due to the fact that the study was partly funded by the Californian Walnut Commission.)
What do these findings mean for you?
It's important to understand that these findings are not isolated. There are many other studies that also confirm these findings.
The message is clear.. if you wish to reduce your aches and pains, improve your heart health, reduce your blood pressure and help your body cope better with stress you must increase your consumption of walnuts, walnut oil and flaxseed oil.Follow the guidelines in this study for the recommended amounts.
If the stress of  life is causing you to go nuts....Don't crack under the pressure of  stress. Crack a walnut. If you don't you are NUTS!
Strict Standards
: Non-static method JLoader::import() should not be called statically in
/home/wor21492/public_html/libraries/loader.php
on line
186